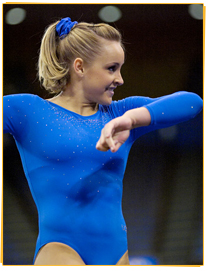 Welcome to the official website of Kristina Comforte. Twenty-year old-Kristina was a member of the Senior US National Team and was rank sixth in the country. During Kristina's first year at UCLA, Kristina was #11 in the all-around, #6 on uneven bars, and #10 on balance beam in nation. Kristina was also second highest ranked freshman AA in the nation.
Kristina began gymnastics at the age of 5 and quickly moved through the levels. When she was a level 8, her mother took her to her first US National Gymnastics Championship in Indianapolis, IN. She watched (former UCLA Bruin gymnast) Kristen Maloney, Vanessa Atler, and Dominique Moceanu compete. After the competition, Kristina informed her Mom that she too would someday compete at Nationals.
Making it to her first US National Championships in 2002 was one of her longtime goals. In fact, Kristina has qualified to 4 US National Championships as an International Elite and is a 3-time National Team Member. In 2002, she also became the Junior National Vault Champion! This year, she has come "Full Circle" by returning to Indianapolis, IN where she once dreamed of becoming a competitor in the US National Championships.
Kristina has had many successes and unfortunate setbacks, but has always stayed true to her love of gymnastics. The next chapter of her gymnastic career will be as a collegiate gymnast competing for the UCLA Bruins; another lifelong dream! Kristina did qualify for an opportunity to compete one last time for the USA, but declined. She felt the time had come to close that chapter of her Elite career. She is so happy and excited with her College transition and hopes you all continue your incredible support. Please visit often!